Ant Software Products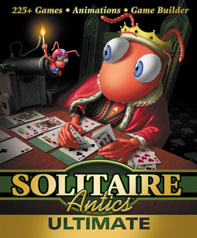 Solitaire Antics Ultimate™
Available for Windows 95/98/NT/2000/ME/XP, Macintosh from Masque Publishing at (800)765-4223 or directly from the Masque Online Store:
Order Solitaire Antics Ultimate
Includes 225+ different solitaire games and a whole bunch of new card decks, animations and backgrounds. For a list of games and new features see Solitaire Antics Ultimate features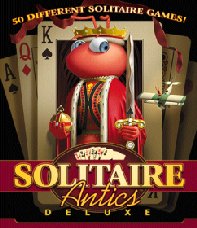 Solitaire Antics Deluxe™
Available for Windows 95/98/NT, Macintosh, Windows CE, Palm OS (PalmPilot, Palm III) from Masque Publishing at (800)765-4223 or directly from the Masque Online Store:
Order Solitaire Antics Deluxe
Includes 50 different solitaire games and a whole bunch of new card decks, animations and backgrounds.
A demo version is also available:
Download Solitaire Antics Deluxe demo for Windows 95/98/NT (6.8 Megs)
Note: to keep the download relatively small, the demo version supports only 256 color art and doesn't include any animations.

Solitaire Anticstm
Avaliable for Windows, DOS, & Macintosh from Masque Publishing at (800)765-4223. Finalist, Best Computer Strategy Game - Electronic Games, February 1995. Solitaire Antics is also included in Masque Five Game Super Paktm for Windows. Download Solitaire Antics demo for Windows(270 k)
---
All trademarks are property of their respective owners.